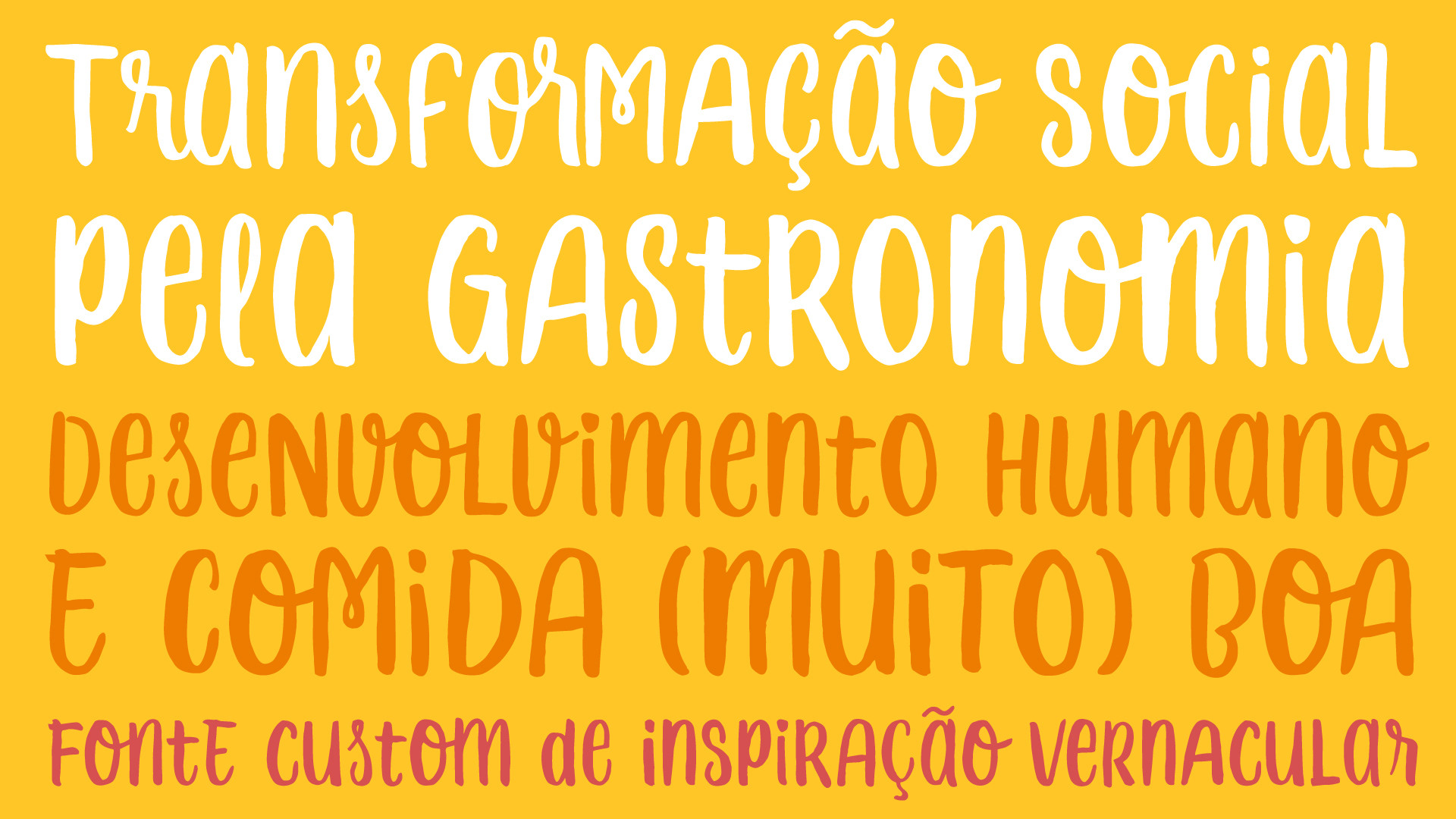 O Chef Aprendiz é um projeto não governamental de desenvolvimento humano que usa a gastronomia
como a principal ferramenta para capacitar jovens de 16 a 20 anos em situação de vulnerabilidade social
para trabalharem na cozinha de restaurantes parceiros como seu primeiro emprego.
Com o crescimento do projeto, uma nova identidade visual foi pensada para se comunicar
com três principais públicos: possíveis investidores financeiros, meios de comunicação para divulgar o trabalho, e os próprios jovens de comunidades que possam ter interesse em se envolver.

Nesse contexto, uma fonte customizada exclusiva busca mostrar o cuidado da identidade visual,
sua raiz no universo visual brasileiro popular, gerar destaque em relação a outros projetos, e comunicar
de forma clara e ao mesmo tempo simpática a personalidade da marca e do seu trabalho social.

A fonte "Chef Aprendiz" tem inspiração vernacular, em letras desenhadas à mão para sinalização
e informe de cardápios em restaurantes e bares populares do Brasil.
O projeto foi selecionado para a shortlist de cerca de 500 trabalhos,
sendo 32 de design de tipos, da 13ª Bienal de Design Gráfico da ADG Brasil.
The "Chef Aprendiz" ("Apprentice Chef") is a human development non-governmental project that uses gastronomy as the main tool for empowering 
young people from 16 to 20 years old in socially vulnerable situations to work in partner restaurant's kitchens as their first job.
With the growing of the project, a new visual identity was designed to communicate with three main publics: potential investors,
media to publicize the work and the young people in the communities that may be interested in getting involved.

In this context, an exclusive custom font seeks to show a careful visual identity, its roots in the brazilian popular visual universe,
stand out from other projects, and clearly and sympathetically communicate the personality of the brand and its social work.

The "Chef Aprendiz" font has vernacular inspiration, in handwriten letterings used for wayfinding
and menu in popular Brazilian restaurants and bars.

The project was selected for a shortlist of about 500 design works,
and 32 type design related, for the 13ª Graphic Design Biennial in Brazil.
Para que a fonte se torne mais interessante sob a perspectiva de vernacular, ou seja, feita à mão e com variações de traço, os glifos foram primeiro traçados à tinta com pincel, e depois escaneados e vetorizados.
In order to make the font more interesting under the perspective of vernacular aesthetic, in other words the handmade look with trace variations, the glyphs were first drawn with ink and brush, and then scanned and vectorized.
O desenho da tipografia é uma espécie de unicase em que todas as letras têm a mesma altura
e pode-se misturar caixa alta e baixa no mesmo texto para que haja variação de desenhos das letras.
O character set inclui caixa alta e baixa, um conjunto de números, frações, pontuação, símbolos,
e algumas ligaturas contextuais para substituir duplas de letras problemáticas.

Além disso, cada glifo tem três versões de desenho um pouco diferentes que são randomizadas automaticamente por um recurso OpenType enquanto se digita – assim se evita a sensação
de artificialidade no conjunto de letras de um título ou frase.

The typeface design is some kind of unicase where every letter has the same height, and it allows mixing upper and lower case in the same text to vary letterforms. The character set includes upper case, lower case, one set of numbers, fractions, punctuation, symbols, and some contextual ligatures to substitute conflicting sequencies of letters.
Besides, every glyph has three slightly different versions that are randomized with an OpenType feature as we type –
this way we avoid the sensation of artificiality in the group of letters of a title or sentence.